We hope you like your Scorpio daily horoscopes.
| Home | Daily Horoscopes | Weekly Horoscopes | Monthly Horoscopes | General Info | Sign Information |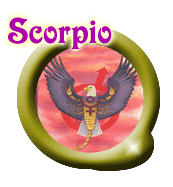 Determined, forceful
Powerful, passionate
Exciting and magnetic
October 23 - November 21

These Horoscopes are for Wednesday 03/29/2017
(Hit refresh or reload if the date is wrong.)
You must make them stand on their own two feet regardless of how much you want to make things better for them. This is a great day to spend with family. It's doubtful anyone will try to stand in your way or cut you off at the pass today.
Like to view all the daily horoscopes on just on page? (Ideal for the office) Click Here!