We hope you like your Scorpio daily horoscopes.
| Home | Daily Horoscopes | Weekly Horoscopes | Monthly Horoscopes | General Info | Sign Information |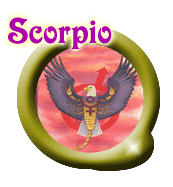 Determined, forceful
Powerful, passionate
Exciting and magnetic
October 23 - November 21

These Horoscopes are for Monday 02/19/2018
(Hit refresh or reload if the date is wrong.)
Ease the anguish by offering assistance. Don't spend too much in order to impress others. Opportunities to upgrade your living standards will come through your lover or through joint financial investments.
Like to view all the daily horoscopes on just on page? (Ideal for the office) Click Here!