We hope you like your Scorpio daily horoscopes.
| Home | Daily Horoscopes | Weekly Horoscopes | Monthly Horoscopes | General Info | Sign Information |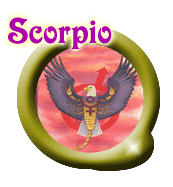 Determined, forceful
Powerful, passionate
Exciting and magnetic
October 23 - November 21

These Horoscopes are for Thursday 02/21/2019
(Hit refresh or reload if the date is wrong.)
Don't hold yourself back because you think you're too old. A day at the beach may satisfy the whole family. Get involved in volunteer work that will bring you satisfaction, not an empty wallet.
Like to view all the daily horoscopes on just on page? (Ideal for the office) Click Here!