We hope you like your Scorpio daily horoscopes.
| Home | Daily Horoscopes | Weekly Horoscopes | Monthly Horoscopes | General Info | Sign Information |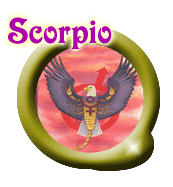 Determined, forceful
Powerful, passionate
Exciting and magnetic
October 23 - November 21

These Horoscopes are for Friday 03/06/2015
(Hit refresh or reload if the date is wrong.)
You should consider submitting some of your written work for publication. Try to avoid any drastic decisions concerning personal legal matters. Your health may have suffered due to neglect or abuse.
Like to view all the daily horoscopes on just on page? (Ideal for the office) Click Here!